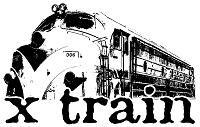 X Train live sound clips and video

XTrain Live in Maleny, Australia
Rain



New Live Video of X Train from Harrietville Bluegrass Festival in Australia




Here are live cuts from the DBA Bluegrass Festival. Oct. 30th, 2010
and songs from the X Train compilation CD Every Man for Himself
Sample live videos from of X train shows
The clips are live videos with the sound quality suffering some but
you can certainly see how much fun X Train has picking and performing.



This video below has two songs. It's the video that goes with the Song for Annabelle soundclip above
and also a video of Bob singing California Cottonfields. I found it on Youtube and we don't know the person who filmed it.
He must have filmed the video in HD wide screen but the sound quality is pretty good, He was right next to the speaker.
Filmed in 2010 at the Desert Bluegrass Association Bluegrass Festival in Arizona.



Copyright ©2001-2013 by Ross Nickerson. All Rights Reserved.