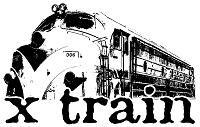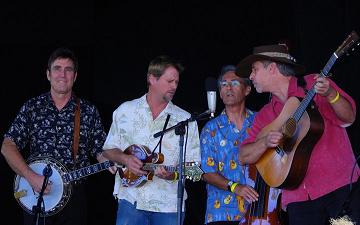 X-Train Band Bio and Information
X-Train is a high energy bluegrass band featuring Ross Nickerson on banjo, Peter McLaughlin on guitar, Mark Miracle on mandolin and Bob Denoncourt on bass. The band offers traditional bluegrass vocals, world class banjo picking, rock solid bass playing and National Champion guitar flat picking. The members of X-Train have toured extensively throughout the world and played and recorded with numerous internationally renowned bluegrass bands.

Member Website's and Bios

Recent interview with Greg McGrath from the Australian Bluegrass Blog
about X Train's upcoming trip to Australia and New Zealand.

.
Where did the band's name 'XTrain' come from?
It came up by accident in email banter between band members and joking about something. I thought Mark Miracle our mandolin player mentioned X Train in the context of, "we could call ourselves "Blank Train" but I've been corrected, it really came from joking around in emails about taking out extraneous things out of a video, and the jokes went from there.

Now here is some real evidence I was just sent from Bob's wife Fran, a thread on facebook, April 2010

Mark Miracle Extraneous Stuff - now there's a band name!
Peter McLaughlin Spell it "X-train-y-us-tough" and people would just call us "X-train" or "Us-tough"---sounds like a bad a** rap band.
Ross Nickerson X train is pretty good, I'll keep that one in mind. been wishing we were picking a bunch the last few days,
Mark Miracle Ok - "X-Train" it is. We need a $ captain, transportation coordinator and booking guru. I'll take care of sound and stage.

Where did you find them - how did the band get together?
We as friends and band members go way back. Peter, Bob and Mark live in Arizona and I did for many years. I played in two different bands with Peter and Bob in the 80's based in Tucson. Bob and I also worked together in a different band based in Nevada for 4 years in the 90's. Peter and I have performed and recorded together off and on since the 80's as well. Mark is also from Arizona but from the Phoenix area so we would see each other at festivals out west a lot but in different bands. For instance, Peter, Bob and I were in a band that won the Telluride Band Contest in the 80's, Mark was in a different band that won the same contest later down the line.

Who are the members of the band?
Peter McLaughlin, guitar and vocals, Ross Nickerson, banjo and vocals, Mark Miracle, Mandolin and Vocals and Bob Denoncourt, bass and vocals.

Where do they each come from?
The band is based in Arizona, I live in Florida now. Bob, Peter and I have eastern roots but Mark was born in the desert and still lives right in the middle of it. Lots of Cactus at his house


Do they have any individual strengths that they bring to the band?
Peter McLaughlin has a list of accolades a mile long. He has won about every guitar contest he's been in. The only one I know he didn't win he got second in at that was the National Flatpicking Championship and the next year he won and became National Flatpicking Champion. Speaking for myself, I have been all over the place picking and teaching and spreading the good word of bluegrass and helping others learn. Bob always seems to end up in good bands, he is an excellent harmony singer and rock solid on bass. Some of his career highlights include working with Banjo Legend Don Stover for many years and recording several records with him. Mark is an amazing picker. A very selfless player that can't help but steal the show. He is a lot of fun to pick with and always has a good rapport with the audience. He has been in bands that have won the major contests in the western part of the United States

Have any of the band members been to Australia before?
I am a repeat offender, and really enjoy it here. I enjoy it so much that I want to bring my friends and share it with them. Two years ago it was Hungry Hill, the band I was in from Canada for many years. We were here a month touring and had a wonderful time at Harrietville. The band also had a lot of fun backing up the students at the Banjo Conference too. Bob lived in Sydney for about three months. When I asked him about coming on the trip, is jaw about dropped, he had been just talking about wanting to come back. Peter and Mark have not been here yet but they are excited to visit. They will fit in well. All the band members will be good ambassadors as people and with their music.

Do you have any plans to record with the group?
We have been pretty tight on stage and already have enough for a CD of live shows. We are playing at a big festival in California in a couple weeks and we are going to record those sets too and then narrow it down and produce a live CD

While you are in Australia you will be working with students at the Australian Banjo Conference>
What can people expect to take away from the Conference (learn)?

A lot of fun! I've never had so much fun teaching and interacting with students at a Banjo Camp. You Aussie's are a fun loving bunch and a pleasure to be around. Sometimes learning an instrument takes a bit of humor to get through the difficult parts. The faculty at Banjo Camp will without a doubt send the students home with loads of new knowledge, tips and inspiration, however… they key to the banjo camp's success may be the way everyone supports each other sending a student home with lots of inspiration, a feeling that they are not alone, and a new found will to succeed...and with a sense of humor about it too!