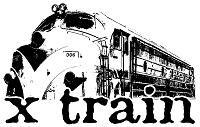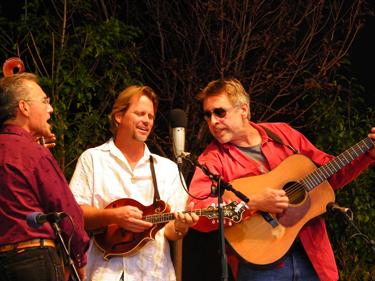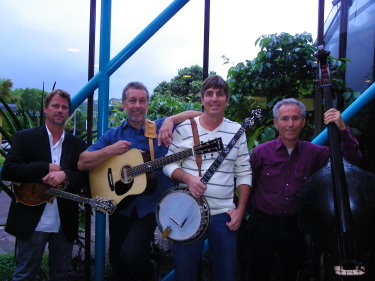 X-Train Band Bio and Information

X-Train is a high energy bluegrass band featuring Ross Nickerson on banjo, Peter McLaughlin on guitar, Mark Miracle on mandolin and Bob Denoncourt on bass. The band offers traditional bluegrass vocals, world class banjo picking, rock solid bass playing and National Champion guitar flat picking. The members of X-Train have toured extensively throughout the world and played and recorded with numerous internationally renowned bluegrass bands.

X Train features a reunion of Ross Nickerson and Peter McLaughlin. Through a lot of word of mouth and recomendations from their previous Arizona performances X Train was featured at the Tucson Bluegrass Festival in 2010. From the great reviews they received there, they have been booked in to the well known Huck Finn Bluegrass Festival in Victorville, CA and also the top names Picking in the Pines Bluegrass Festival in Flagstaff, AZ in September. Next in 2011 they are off to tour Australia and New Zealand. Ross and Peter have worked together for many years in Arizona and in the west in the 1980's and have continued to gig together off and on since. They are former champs of the Telluride Bluegrass Band Competition in 1988 and Wickenburg Bluegrass Festivals as members of the Titan Valley Warheads. Ross Nickerson has been touring in the US, Canada, Europe and Australia in the in this last decade but still calls Arizona where Peter, Mark and Bob live his home away from home. Ross has just completed a new CD that he recorded with members of the acclaimed bluegrass band, Blue Highway that features 13 time IBMA Dobro player of the year Rob Ickes and Tim Stafford former guitar player with Alison Krauss. Peter McLaughlin should be familiar to all in Arizona and around the US and Europe as a former Winfield National Flat Picking Champion, former member of Laurie Lewis and Grant St along with contributing lots of music in Arizona where he makes his home. Peter's most recent band was The Perfect Strangers that featured top artists such as Jody Stecher, now with Peter Rowan and banjo Player Bob Black a veteran of Bill Monroe's Bluegrass Boys. Also featured in the band is Mandolinist Mark Miracle formerly of Sawmill Road, a lights out picker who Ross had the pleasure of reconnecting with in Canada and IBMA this year. Mark, an Arizona native has always found himself playing with the best pickers and singers in the area and has many contest wins to his credit., Bob Denoncourt, XTrain's bass player who has worked with Peter and Ross for many years is a veteran of top bluegrass bands all over the US. Bob's extensive bluegrass experience goes back to being a member of Don Stover's White Oak Mountain Boys and stints with Joe Val, to name a few. X Train's Music features Ross's hard driving banjo style along with the highly skilled picking of Peter, Mark and Bob with lot's of three part traditional Bluegrass vocals. They have a ton of fun on stage and audiences always
leave with a smile.



New Live Video of X Train from Harrietville Bluegrass Festival in Australia
More soundclips and video